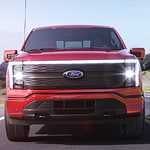 The Ford F-150 has been a reliable choice for years, thanks to its combination of power, comfort, and practicality. But the 2023 model year is set to introduce some major changes to this beloved vehicle, including some exciting new utility features. Read on to learn more about what the 2023 Ford F-150 has in store for drivers.
PowerBoost Hybrid System
The 2023 model will be available with an all-new PowerBoost hybrid system that combines a 3.5L EcoBoost V6 engine with a built-in electrical generator and a fully integrated 1.5 kWh lithium-ion battery pack.