Alan Jay Ford of Wauchula General Service

Get Comprehensive Service for Your Ford at Alan Jay Ford of Wauchula
You can get the most out of your Ford by staying up to date on its maintenance. Whether you're a new owner or have had your Ford for a number of years, you'll want to stay current on service in Wauchula, FL to get the most from your vehicle.
General Service Offers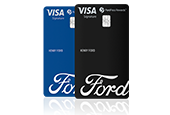 Get Everyday Special Financing on Vehicle Service With the FordPass™ Rewards Visa® Card. *
*This is an advertisement. Please see the Summary of Credit Terms for important information on rates, fees, costs, conditions and limitations. You must pay your entire statement balance (including all promotional purchase and balance transfer balances) by the due date each month to avoid being charged interest on new purchases from the date those purchases are made, unless your new purchases are subject to a 0% interest rate. Special Financing Offer Details: Purchases in which single or multiple items are purchased in the same transaction totaling at least $499.00 at Ford Dealerships will be referred to as "Eligible Purchases? in your Summary of Credit Terms. All transactions are subject to approval. Accounts are eligible only if they are open, in good standing and not already subject to special terms. All other terms of your account remain in effect. Minimum monthly payments required are subject to a 0% interest rate.
**For additional information about Annual Percentage Rates (APRs), fees and other costs, see the Summary of Credit Terms.
Other benefits of Alan Jay Ford of Wauchula service include:
Original equipment manufacturer (OEM) parts
Full‐service maintenance
Expert heavy repair facility backed by Ford
Parts and labor warranties
Clean, comfortable waiting areas with free Wi‐Fi
Shuttle service to and from your home
Friendly and knowledgeable staff
Maintaining your vehicle
Routine maintenance, such as oil changes, having fluids checked/flushed and tune‐ups, can greatly increase your vehicle's performance and reliability as well as greatly extend its life. Failing to properly service your vehicle can result in increased repair costs, as well as greatly reduce its value for a future sale or trade‐in.
Oil Changes
Engines are a dirty place by nature, and your oil does the lion's share of keeping dust and debris from damaging any of your engine's components as you drive through Fort Meade. Keeping your oil clean extends the life of your engine and can also improve fuel efficiency. If your Ford requires synthetic oil, you may even be able to double the old standard of an oil change every 3,000 miles to something closer to every 6,000 miles. Your technician can advise you on the ideal oil change schedule for your Ford model.
Long Term Repairs
In contrast to the services that need to be done every few months, there are long term maintenance tasks that Arcadia drivers may only need to do once or twice during all the years they own their vehicle. These services may be rare, but they're just as vital as an oil change in maintaining the health of your vehicle. An example of these is changing out the timing belt. This is a task that should be done every 50,000 to 70,000 miles, and if it's overlooked, it can cause catastrophic damage to your engine when the belt fails.
Other long-term maintenance includes replacing spark plugs, replacing lubricant in your transmission and differentials, flushing and replacing coolant, servicing struts and shocks, replacing power steering fluid and many other tasks. Your technician can work with you to develop a schedule that reflects the advice laid out in your owner's manual, so you never have to miss an important maintenance milestone.
Filters
Your vehicle's filters should be changed every 15K‐30K miles. Most can be inspected and replaced during a routine oil change. These include the engine air filter, oil filter, fuel filter and cabin air filter.
Spark plugs
Your spark plugs should be changed every 100K miles. A bit more complicated than a routine oil change, the time and cost will depend on the year, make and model of your vehicle.
Belts and hoses
Belts and hoses play an integral part in your vehicle's performance. As belts age, the rubber becomes brittle, causing it to crack. If the belt is showing signs of wear on its outer edge, this is also a sign that it will need to be replaced.
Since coolant temperature is about 200 degrees, the hoses that carry it are extremely important. A belt or hose failure can cause loss of both power steering and the electrical charging system, as well as an overheated engine. If your engine overheats, this can cause the cylinder heads to warp, resulting in a very expensive repair.
Hoses are generally inspected for softness and swelling, hardening, cracks, chafing and heat damage. If any of these issues are detected, your hoses will need to be replaced.
Brakes
Stopping your vehicle is just as important as starting it, so don't overlook your brakes when it comes to maintenance. Your brake pads will follow a replacement schedule that reflects the way you use your Ford. If you're doing a lot of hauling and towing, you'll go through brake pads at a much faster rate than someone who has a quick and easy commute. You should be vigilant in listening for the squeaky noises as you drive through Avon Park, as these are a warning bell that brake service is necessary. You're accustomed to your vehicle's driving behavior best, so you'll also want to heed any sudden changes in braking behavior, like a spongy, ineffectual response when you press the brake pedal. This could indicate a leak in the hydraulic system and require immediate maintenance. You'll want to have your brake fluid replaced every 40,000 miles or so. Your brake rotors warp over time and need servicing about every 60,000 miles to function properly.
Batteries
Today's vehicles are loaded with technology. That's why it's more important than ever to ensure your battery operates at peak performance. At Alan Jay Ford of Wauchula, we know exactly what battery is needed for your specific vehicle and can help guide you through what can be a somewhat complex process.
Tires
Tires that are balanced, properly inflated and regularly rotated will not only give you years of comfortable driving, but they'll even save money on fuel by decreasing friction and sparing the engine from having to work too hard. You can check your tire pressure and tread level yourself from your Arcadia or Zolfo Springs home, or you can ask your technician to include it as part of your next inspection. You'll want to have your tires rotated every six months or so in order to avoid letting one tire wear down at a faster rate than another.
The Ford Service Credit Card
The Ford Service Credit Card is a financing option that lets you pay for all service maintenance and repairs, including tire purchases and installation at Alan Jay Ford of Wauchula and other Ford Dealers across the U.S. It only takes a few minutes to apply and receive the decision.
Upon credit approval, you'll be provided with a credit line to assist you with all instore purchases, including:
Ford Motorcraft® batteries
Parts
Accessories
Tires
Extended service plans
Rental vehicle
Body shop repairs/deductions
And more
At Alan Jay Ford of Wauchula, our technicians are certified Ford specialists and can complete your long- or short-term maintenance quickly and competently. We also utilize replacement parts straight from Ford so your repair makes your vehicle as good as new. Don't let your Ford fall behind on maintenance. Book your next service appointment today in Wauchula, FL and see why Alan Jay Ford of Wauchula is the place you want to go for Ford repairs.
The Ford Service Credit Card
Questions About Maintaining Your Vehicle? Let us Help!
* = Required