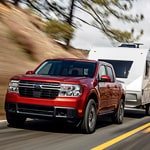 The interior features of the Ford Maverick provide you with a diverse array of options that cater to your personal needs in Wauchula. If you are looking for a versatile compact truck, let our people at Alan Jay Ford of Wauchula demonstrate what the interior design of this vehicle has to offer.
To start, the Maverick contains a number of configurations that help maximize interior cargo space. Storage compartments under the rear seats and within the doors provide you with a complete array of options for both large and small belongings. This truck's unibody design also maximizes the available legroom for passengers in the backseats.
In addition to interior space, the Maverick helps you stay prepared during long trips on the road. Front-seat wireless charging and two, 12V charging ports give you the ability to keep your phones, tablets and even laptops powered up. Apple CarPlay and Android Auto features also allow you to easily access your favorite apps during your travels.